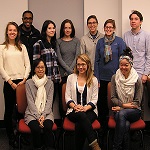 Date: Friday, 6/2/17
Time: 12:30-1:30 PM PT
Location: 313 Denny Hall
This Friday, we'll be celebrating the end of the academic year and CSDE's successful NIH Center Grant (P2C). We'll also be presenting Demographic Methods Certificates. Please join us in recognizing all of these accomplishments! Every member of the CSDE community plays an important role in our broader research network and training program. There will be refreshments and a very brief program starting at 12:45 PM.
These students will be receiving their certificates:
Michael Babb, Geography
Christopher Cambron, Social Work
Erin Carll, Sociology
Nikki Eller, Health Services
Xinguang Fan, Sociology
Andrew Jopson, Health Services
Savannah Larimore, Sociology
Christine Leibbrand, Sociology
Jonathan Muir, Sociology
Michelle O'Brien, Sociology
Victoria Sass, Sociology
María Vignau Loria, Sociology
Please see the full CSDE Seminar Series Schedule and Subscribe to the CSDE Calendar.