Center for Studies in Demography and Ecology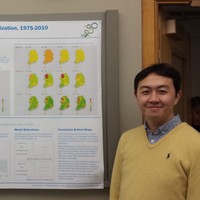 Chung Ho Kim
Demographic Methods Certificate 2016
Urban Design & Planning

website

---
Chungho Kim is an Interdisciplinary PhD student in Urban Design and Planning at the University of Washington. He graduated from Seoul National University in 2006 with a BS (Magna Cum Laude) and MS in Architecture. His doctoral research currently focuses on regional sustainable development in East Asia. In addition, he aims at proposing new approach to urban sustainability based on traditional ecological knowledge or villages in East Asia.
Prior to beginning the PhD program, he was a professional architect and urban designer at Samoo Architects & Engineers and Haeahn Architecture from 2003 to 2009. He has been awarded many prizes from a variety of international or domestic competitions, including "Sejong Prime Minister's Official Residence" (3rd Prize), "Incheon Children's Science Museum" (1st Prize, KIRA Excellent Prize), and "Korea University New Campus Center" (1st Prize, KIA Best 7 Award).
Chungho was a visiting scholar at the University of Pennsylvania in 2005, and a research associate at Seoul National University from 2010 to 2011. He was also an author of creative publications on architecture, urbanism, and design such as "Desire City, Seoul" and "Design 3 Minutes Speech".