Center for Studies in Demography and Ecology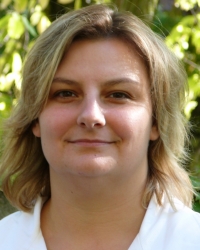 Kerry MacQuarrie
Demographic Methods Certificate 2016
Sociology PhD 2016

website
---
As of 2012, Kerry MacQuarrie works as a Technical Specialist (Demographer) at DHS in Washington, D.C. She earned a PhD and MA in Sociology from the University of Washington.
Kerry's research interests include fertility, family demography, gender and reproductive health in low-income countries. She is particularly interested in developing and applying mixed methods and life course approaches to the study of transitions to adulthood, early marriage and childbearing, household and community influences on contraceptive and abortion decision-making, HIV stigma, and male participation in reproductive health.
Her master's thesis examines the determinants of women's empowerment upon marriage, and the family formation factors that influence variations in empowerment over the life course in a North Central state of India. Other work explores the role of son preference and women's agency in timing of pregnancies, lifetime measures of unmet need for fertility regulation, and spousal and inter-generational support and barriers to young women's achievement of non-normative life aspirations.