Center for Studies in Demography and Ecology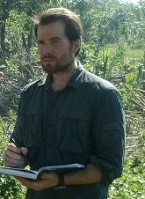 Ben Trumble
Funded Fellow 2008/2009
Non-Certificate Demographic Trainee
Anthropology PhD 2012

website
---
Ben Trumble is an Assistant Professor in the School of Human Evolution and Social Change, Center for Evolution and Medicine, at Arizona State University.
His  research focuses on field and laboratory analyses of hormone-behavior interactions; specifically the relationship between reproductive hormones, immune function, behavior, environment, and the implications this has for human health and life histories. His research interests include evolutionary medicine, demography, prostate cancer, risk taking behavior, costly signaling, and the development of novel population level biomarker assays. He manages laboratory analyses conducted by the Tsimane Health and Life History Project, including their mobile and clinic labs as well as the UCSB Human Biodemography Wet Lab.
Ben received a PhD (2012) and MA (2009) in Anthropology from the University of Washington, and a BA in Anthropology and Psychology from UC Santa Barbara (2006).