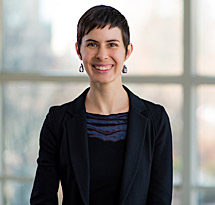 Clara Berridge
Assistant Professor, Social Work
University of Washington
Tel: 206-685-2180 Box: 354900

website

---
CSDE Research Areas:
Health of People and Populations
Wellbeing of Families and Households
In the News:
---
Clara Berridge is a gerontologist who studies the ethical and policy implications of digital technologies used in elder care, including AI, monitoring technologies, and predictive analytics. Through a K01 award (NIA), she is currently developing a free online tool to help families engage people with mild dementia in informed decisions about technologies used in their care and examining the ethical aspects of using artificial companions to address loneliness. Clara has also studied the surveillance of direct care workers in long-term care facilities and the impact of nursing home culture change practices on staffing and retention. She teaches a graduate course on social and healthcare policy in an aging society (SOCW 526).