Center for Studies in Demography and Ecology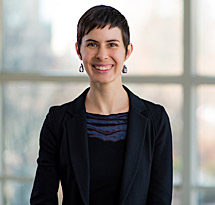 Clara Berridge
Assistant Professor, Social Work
University of Washington
Tel: 206-685-2180 Box: 354900

website

---
CSDE Research Areas:
Health of People and Populations
Wellbeing of Families and Households
In the News:
---
Clara Berridge is a gerontologist who studies technology-based services intended to enable most-integrated housing and reduce vulnerabilities among older adults and people with disabilities. Her primary area of research examines the ways in which diverse stakeholders interact with and assess the impact of these home care technologies, as well as how these technologies are integrated into state Medicaid and managed care programs. She has studied decision making about adoption, discontinuation, actual use, and resistance to explain how values of privacy, independence and risk management evolve along with technological innovation. In this work, she focuses on ethnically diverse Medicaid and near-Medicaid eligible older adults, frontline care staff, home and community-based services (HCBS) program managers, and family members. Her second and newer area of research concerns the direct care workforce, including the impact of nursing home culture change practices on staffing and retention and the use of monitoring technologies to detect or deter abuse in resident rooms.