Center for Studies in Demography and Ecology
Logging off closes your current terminal server session and terminates all your running programs. Disconnecting only closes your Remote Desktop window but your programs will still be running.
This also allows you to connect to that session again later.
To log off the terminal server, navigate to the Desktop and double-click on the "logoff" icon. If you have jobs running or files open, they will be closed.
To disconnect from the terminal server, click the X (Close button) to close the main terminal server window. You'll see a message stating, "This will disconnect your Windows session." The terminal server window will close, but your programs will continue to run in the background on the server. Next time you log in, you'll be instantly reconnected, and your files and programs will still be up. It's a convenient way to start a long-running job at school and check on it again later from home.
It is always a good practice to log off from the terminal server if you do not have any more jobs running. Doing this will allow the system to allocate resources that you no longer need to other users and jobs. In addition to this, the H:, R:, and T: drives may be disconnected if your remote desktop session has been idle for a while, and the only way to reconnect the drives is to log off from the terminal server.
The drives may sometimes get disconnected when your remote desktop session is disconnected without logging off. The usual way to get around this is to log out of the terminal server completely and then log back on. To log out, navigate to the Desktop, then double-click on the "logoff" icon. Notice that clicking the X button on the title bar of the remote desktop session will not log you off.
Please contact csde_help@uw.edu if problems persist.
Normally, if you have disconnected from your remote desktop session, you should be able to reconnect to it. However, all remote desktop sessions that were disconnected before our scheduled server reboot time will be logged off during the reboot. This means that you will not be able to reconnect to your previously disconnected remote desktop session the first time you log on after 5:30 AM on Tuesdays & Fridays.
If a network error has disconnected you from a session, try waiting for a few minutes before you reconnect. If you still experience problems connecting to the terminal server, email csde_help@u.washington.edu. CSDE will also notify you of outages via email if there is a persistent networking problem affecting our server connectivity.
Though it's rare, a terminal server crash can also keep you from reconnecting to your old remote desktop session. When a terminal server crashes, all remote desktop connection sessions are terminated, and users will not be able to reconnect to them. CSDE will notify you via email of a terminal server crash.
Few of the programs we have available will produce an error if opened across multiple servers at one time. However, those that do depend on the fact that the instance of the program has exclusive access to the user's data files from only one machine, or server, at any given time. Opening another instance of the program on another server results not only in a new instance, but makes it seem as if it's an entirely different program accessing the same set of files (not allowed).
At the moment, the following software can only be run on one CSDE terminal server: Eclipse, Firefox, SAS, and Thunderbird.
Windows TS Manager is no longer supported on our Terminal servers. Please use Task Manager to manage your program instances.
System resources for the terminal servers are shared among users who are currently logged on. At certain times, you may notice that the CSDE terminal servers slow down considerably. This is because of high resource utilization—for example, a couple of users running extremely CPU-intensive jobs decrease the server's responsiveness for everyone else. Our experience shows that the #1 factor affecting the response time of the terminal servers is the usage of system memory. When system memory is consumed up to 95% and beyond, the system response time is very slow. In some severe cases, users might not be able to log on to the system.
We constantly monitor our systems to make sure users who log on have a fair chance of completing their computing jobs. For this reason, we may need to terminate programs that use a significant amount of system memory without advance notice.
R packages are installed in C:\Program Files\R\Rxxxx.yyyy\library and shared among all users. Any user can download and install packages in said folder on our terminal servers and Sim Cluster nodes. However, if the package is installed on only one terminal server (e.g, Ts2), you may need to log on to that server to use it.
Sometimes the installation may fail if the installer tries to install other packages that your package depends upon. We advise users to check if the dependencies packages are present before the installation and choose not to install dependencies of the package. If you are using RStudio to install R packages, uncheck "Install dependencies" before installing the package or use the command install.packages("package_name", dependencies = FALSE).

You may use the terminal servers' printer redirection functionality to print to your own desktop printer. Drivers for many popular printer models are already installed on the server. If your printer is supported, it will appear in the Printers list a few moments after you connect to the terminal server. If your printer does not appear, contact us—we'll install the appropriate printer driver. Be sure to include your printer's manufacturer (e.g., Hewlett-Packard) and model number (e.g., LaserJet 8150).
Please note the following:
Printer redirection only works on Windows client computers.
Although we'll make every effort to get your printer working on the server, some printer models are not compatible with terminal servers. Many multifunction printers (such as those that also scan, fax, etc.) will not work.
Troubleshooting:
If you're using the Remote Desktop Connection program, you must ensure that the Printers checkbox is selected in Options -> Local Resources.
Sometimes when EndNote and Microsoft Word are concurrently open in terminal servers, Microsoft Word may freeze and jeopardize work. This can be avoided by disabling instant formatting on EndNote.
Open EndNote and Microsoft Word in terminal servers (TS1/2/3). Click on Tools on the menu bar. Select Cite While You Write (CWYW), then select Format Bibliography.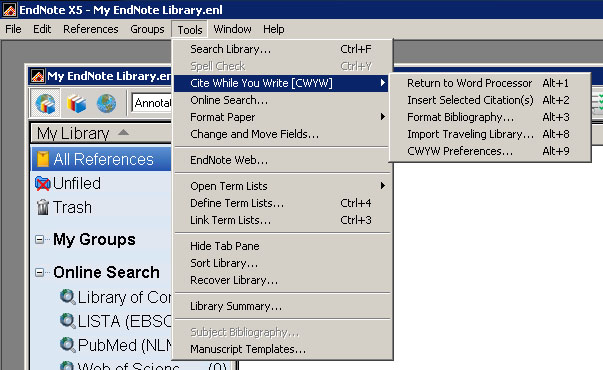 When this alert below shows up, click Turn Off. This should disable automatic synchronization of previous bibliographic information and prohibit freezing while using both programs.

This problem may happen if your computer is running Windows 8 (Windows 7 and Mac OS don't seem to have this issue).
The error message looks like this when you try to log on to the terminal servers through Remote Desktop Connection with your correct NetID username and password: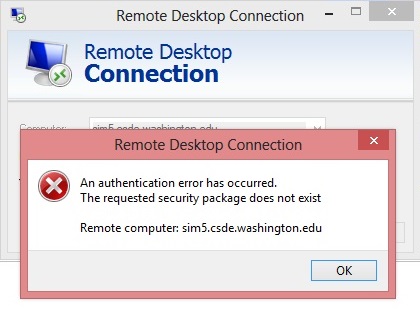 The solution is to edit your computer's registry using the method described in the bottom half of this page.
Notice that the author from the link did not post any specific explanation to the solution, and editing the computer registry is not straightforward. If you are not sure how to edit the registry by yourself, feel free to ask CSDE for help.
Laptop Recommendations
CSDE recommends Lenovo, Dell, and Apple Laptops. Below, please find additional recommendations for the best experience with your endpoint device
For any Laptop, please follow the hardening guidance from the UW CISO's office. In the event of a conflict between CISO's advice and what you find here, follow the CISO's page.
UW CISO: Securing laptops
For Windows Laptops:
– Turn on Windows Defender Antivirus
– Turn on automatic updates & reboot regularly
– Use the manufacturer-provided Firmware and Driver update tools listed below:
— For Dell: Download and install "Dell Command Update"
— For Lenovo: Download and install "Lenovo System Update"
For Mac Laptops:
– Check Mac Buyers Guide before purchasing a machine
– Install sw updates regularly
– Approach major OS updates very cautiously – dont be an early adopter
– When possible, install software from the Apple store – this ensures automatic updates
– For software that is not from the Apple store, run that software's internal "Update Check" regularly