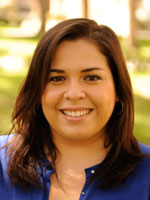 Carmen Gonzalez
Assistant Professor, Communication
University of Washington
Tel: 206-543-2660 Box: 353740

website
---
CSDE Research Areas:
Health of People and Populations
Migration and Settlement
In the News:
---
Carmen Gonzales is an Assistant Professor in the Department of Communication at the University of Washington and an Associate Director for the Center for Communication, Difference, and Equity. Her research employs community-based and participatory methods to examine technology engagement and health disparities among immigrant and minority populations. She has 10 years of experience conducting research in under-served communities, more recently on connectivity and digital equity.  Her work on digital equity has been supported by the Bill and Melinda Gates Foundation, through which she identified the supports that Limited English Proficiency families need as more health resources migrate online. She was previously a research assistant and postdoctoral researcher on a study funded by the National Cancer Institute that examined the barriers and conduits to cervical cancer prevention among Latina women in Los Angeles.