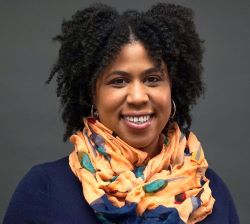 Stephanie Cook
Assistant Professor, Department of Biostatistics and Social & Behavioral Health
Tel: 212-992-5635

website
---
CSDE Research Areas:
Health of People and Populations
---
Stephanie Cook is a James Weldon Johnson Professor and Assistant Professor in the Department of Biostatistics and Social & Behavioral Health at New York University. She has wide expertise in the development of statistical models for determining associations between biological and behavioral risk factors and health outcomes in large population-based cohort and intervention study designs. She is the Director of the Attachment and Health Disparities Research Laboratory at NYU's School of Global Public Health where she and her research team conducted research and intervention studies that focus on evaluating the mechanistic links between minority stressors and health disparities (social and biological) in emerging adulthood.
Dr. Stephanie Cook's overarching research focus is to understand how structural- and individual-level minority stressors contribute to mental health, physical health, and health behaviors across the life span. Further, she seeks to understand how features of close relationships can exacerbate or buffer the negative effects of minority stress on health. Her work primarily focuses on young adults transitioning to adulthood who are at the intersection of racial/ethnic and sexual orientation status. In addition, much of her current work examines the links between minority stress (i.e., daily experiences of discrimination) and biological markers of stress (e.g. cortisol and c-reactive protein).
Dr. Cook and her team's long-term goal is to continue creating, implementing, and refining sustainable interventions to reduce the influence of stress on health utilizing innovative methodologies.