Center for Studies in Demography and Ecology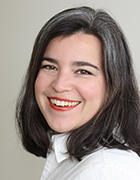 ---
CSDE Research Areas:
Health of People and Populations
---
Joana Cunha-Cruz holds Research Associate Professor positions in the Department of Oral Health Sciences in the School of Dentistry, as well as in the Department of Health Services in School of Public Health. She is a public health researcher and educator with dental and epidemiology degrees with more than 10 years of public health academic experience.
As a public health researcher with degrees in dentistry and public health epidemiology, Cunha-Cruz's focus has been on epidemiological and intervention studies on pediatric oral conditions in Alaska Native, Latinx and low-income rural communities, as well as data analyses of national surveys and complex datasets merging different types of electronic health records. Her research explores the biosocial determinants of oral health and explore solutions for health inequities.
Cunha-Cruz received her Dental degree from the State University of Pernambuco, Brazil and MPH and PhD in Public Health (Epidemiology) from the State University of Rio de Janeiro, Brazil.