Ali Rowhani-Rahbar Publishes New Study on Handgun Carrying Behaviors Among Rural Youth
Posted: 1/31/2020 (CSDE Research)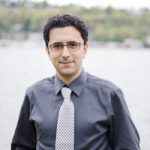 Evidence on handgun behaviors among rural teenagers is scant, as our knowledge of handgun carrying mainly pertains to adults and urban settings. This is why CSDE Affiliate Ali Rowhani-Rahbar lead and published a study on patterns of handgun carrying among rural adolescents. By using data from the UW Community Youth Development Study, Rowhani-Rahbar and his co-authors found that about one-third of young males and 1 in 10 females in rural communities have carried a handgun—and many of these rural youth started carrying handguns as early as in the sixth grade. The study's results indicate that further research on rural youth and their handgun carrying behaviors is necessary to develop culturally and geographically appropriate firearm injury and gun violence prevention programs.
UW News also published an article on the study and quoted Rowhani-Rahbar: "Youth handgun carrying and firearm violence are often presented as an exclusively inner-city problem…However, that focus should not come at the cost of ignoring non-urban settings. Indeed, youth in some rural areas experience similar or even higher rates of handgun carrying and certain forms of interpersonal violence— for example, being attacked or threatened with a weapon—than their counterparts in urban areas."
The title of the study is "Initiation Age, Cumulative Prevalence, and Longitudinal Patterns of Handgun Carrying Among Rural Adolescents: A Multistate Study," published in the Journal of Adolescent Health. Click the link below to read the full study.
Affiliates