Center for Studies in Demography and Ecology
Anjum Hajat and Ali Rowhani-Rahbar Examine Changes in Firearm Behavior Among Gunshot Wound Patients
Posted: 9/26/2019 (CSDE Research)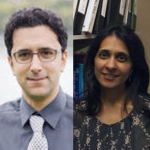 CSDE affiliate Anjum Hajat, Assistant Professor of Epidemiology and CSDE Affiliate Ali Rowhani-Rahbar, Professor of Epidemiology co-authored a recent article that examines changes in firearm-related behaviors among nonfatal gunshot wound (GSW) patients following their injury.
In the article, published in the Journal of Behavioral Medicine Issue 4, the authors analyze survey data on firearm-related behaviors from an ongoing randomized control trial of GSW patients to find and describe changes in behavior.
The results from this study demonstrate that GSW patients do change their firearm behaviors in a variety of ways—these results also highlight the possible development of critical interventions to promote firearm safety for GSW patients. The full article is linked below.
Affiliates