Butch de Castro and Eleanor Brindle Explore Health of Immigrants from the Philippines
Posted: 7/7/2018 (CSDE Research)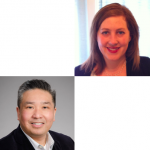 Although immigrants to the United States are typically healthier than their U.S.-born counterparts, the health of immigrants declines with duration of stay in the U.S. A team of researchers—which includes CSDE Affiliate Butch de Castro and CSDE Biodemography Director Eleanor Brindle—seeks to distinguish the effects of acculturation versus secular trends.
Butch de Castro, Professor and Associate Dean for Diversity, Equity, & Inclusion at the School of Nursing, co-authored the paper with Gilbert Gee, Professor at UCLA's Department of Community Health Sciences. Eleanor Brindle is consulting and providing lab work for the project. Health of Philippine Emigrants Study (HoPES) is funded with support from CSDE.
An article on their research was recently published in BMC Public Health, which you can read below.
Affiliates