Christine Leibbrand Examines How Non-Standard Work Schedules Shape Children's Behavioral Outcomes
Posted: 7/7/2018 (CSDE Research)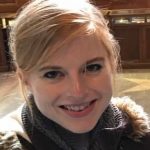 9-to-5 work shifts aren't the only solution for busy families. CSDE Trainee and Shanahan Fellow Christine Leibbrand, a graduate student in the Department of Sociology, examined the benefits of non-standard schedules in "Flexibility or Constraint? The Implications of Mothers' and Fathers' Nonstandard Schedules for Children's Behavioral Outcomes."
Leibbrand found that consistent working hours–no matter what time of day–provide families with flexibility and can even improve children's behavior. She focused on two-parent families in which one parent worked a non-standard shift. Her findings include:
A mother's night shift tended to have benefits for boys and girls, especially when they're young
A mother's rotating shift, or a split shift — say, going to work for a few hours in the morning, and again in the evening — was associated with greater problems among boys of all ages, and among older girls
A father's rotating or split shift was associated with more behavior problems among girls, particularly younger girls
A father's night shift tended to coincide with behavioral benefits among boys
Her research has been featured in USA Today, The Times of India, and UW News. You can read the study, published in the June issue of the Journal of Family Issues, below.