Center for Studies in Demography and Ecology
CSDE Affiliates Evaluate How Employment Quality Determines Health Outcomes
Posted: 10/14/2019 (CSDE Research)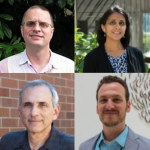 Employment and its implications on public health have not been adequately explored by academics and scientists—this is why first author and key organizer of the Employment and Health Working Group Trevor Peckham (PhD Candidate in UW's Department of Environmental and Occupational Health Sciences) and CSDE affiliates Brian P. Flahtery, Anjum Hajat, and Noah Seixas evaluate how employment quality (EQ) can affect an individual's health in their newly co-authored published paper.
In the paper, published in The Russel Sage Foundation Journal of the Social Sciences (RSF) Issue 4, the authors examine employment quality within different forms of employment against three different health outcomes: self-rated health, mental health, and occupational injury. The authors use data from the General Social Survey (GSS) for regression analyses to determine the association of employment quality on health outcomes.
Flahtery, Hajat, Peckham, and Seixas find that employment quality and three different health outcomes were significantly associated with each other—the results from the paper demonstrate the need for labor policies that promote the safety and well-being for workers across employment sectors.
Check out this link for a press release on the paper and the link below for the entire paper.
Affiliates