Center for Studies in Demography and Ecology
CSDE and DemSemX Panel Recordings Now Available!
Posted: 8/10/2021 (Local Events)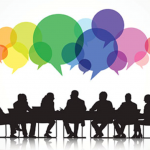 In July, CSDE co-sponsored two panel talks on Academic Midlife with DemSemX, a coalition of population centers from across the U.S. This was an exciting opportunity to learn about the career paths of eminent scholars after they received tenure. If you missed one or both events, the recordings are now available here. The first session, "Life after Tenure" was held on July 23 and featured Hiram Beltrán-Sánchez (UCLA), Jennie Brand (UCLA), and Jack DeWaard (Minnesota). The July 30 session, "Later-Stage Career Choices," featured Adam Gamoran (William T. Grant Foundation), Jennifer Glass (UT at Austin), and Zhenchao Qian (Brown).