Center for Studies in Demography and Ecology
CSDE Trainees Spotlights: Glass and Lanfear
Posted: 10/19/2020 ()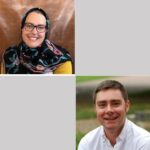 One of the best aspects of associating with CSDE are CSDE's Trainees. Here we take some space to shine a spotlight on a couple of trainees and their recent accomplishments,
Delaney Glass
 and 
Chuck Lanfear
, but they are not alone among our trainees who are wonderful colleagues and contributors to population science.
Among our most recent trainees,
Delaney Glass
is a biocultural anthropologist in UW's Department of Anthropology and advised by CSDE Affiliate and Biodemography Lab PI Melanie Martin. Her research interests include human growth and development, social and physical stress, and childhood and adolescence. Her dissertation research examines social stressors become embodied in the context of biobehavioral changes occurring throughout puberty and early adolescence. She plans fieldwork with adolescents living in Amman, Jordan and Irbid, Jordan.  She has a wide array of research skills that include R and statistics, qualitative and quantitative methods, biomarker lab assays, and science communication. Plus, she speaks and reads Arabic! Besides her research she is an Assistant Produce of the
Sausage of Science Podcast
 and a Digital Scholarship Intern, 
Anthropology of Children & Youth
.
Charles (Chuck) Lanfear is a sociologist whose research investigates the application of statistics and computational methods to questions at the intersection of criminology, sociology, and demography.  His current research examines how demographic and built environment characteristics of places influence social control and situational opportunity to determine the distribution of crime in time and place. He has published widely and prolifically with many colleagues, including with his advisor CSDE Affiliate Ross Matsueda. He is also an outstanding instructor and recognized with the UW's 2020 Excellence in Teaching Award. His latest and biggest news is that he has just been awarded a prestigious postdoctoral fellowship at the Center for Social Investigation at Oxford's Nuffield College to work with David Kirk and Rob Sampson. Their project will be examining gun violence over the life course using the Project on Human Development in Chicago longitudinal data files.