CSDE Welcomes Four More Faculty and Regional Affiliates!
Posted: 2/15/2021 (CSDE Research)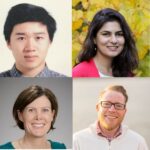 CSDE's Executive Committee is pleased to introduce four of our new UW Faculty Affiliates:
These affiliates bring a wealth of knowledge and unique approaches that enhances our community of demographers and collectively advances population science. We look forward to supporting each of them as they pursue their research. You can learn more about their individual research interests by visiting their affiliate pages, linked above.
If you are interested in becoming an affiliate or you know of someone who should become one, you can invite them to do so by directing them to this page. Affiliate applications are reviewed quarterly, by CSDE's Executive Committee.
Affiliates