CSDE Welcomes Four New External Affiliates!
Posted: 11/5/2021 ()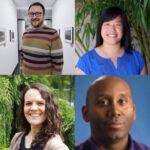 Throughout the year, CSDE reviews applications from demographers working at other universities, as well as those working in the private and public sectors. These affiliates are keen to engage with CSDE's scholarly community. As external affiliates they are able to access our computing resources (including data and software) and online seminars or workshops, consults with our scientific staff, and collaborate easily with CSDE's UW faculty on research projects. Non-UW demographers interested in a affiliating with CSDE can click here to apply. This quarter, we welcome four new external affiliates:
Rob Kemp – Senior Forecast Analyst at the Washington State Office of Financial Management. Dr. Kemp's research interests include demography measurements and methods as well as migration and settlement.
Tiffany Pan – Postdoctoral Scholar at the University of California – Santa Barbara. Dr. Pan earned her PhD in Biocultural Anthropology from the University of Washington in 2019, and is an alumna of the CSDE Pre-Doctoral Fellowship Program. Her research is centered around the health of people and populations.
Deleena Patton – Research Manager at the Washington State Department of Social and Health Services. Dr. Patton's research areas include child and family well-being, maternal/child health, public assistance, child welfare, and early childhood development. She provides research and evaluation services to DSHS, other state agencies, and policymakers using integrated administrative data in order to improve the lives of Washingtonians.
Bryan Sykes – Chancellor's Fellow, the Director of Graduate Studies, and an Associate Professor of Criminology, Law, & Society at the University of California – Irvine. Dr. Sykes' research focuses on demography (fertility and mortality), criminology, population health, mass imprisonment, social inequality, and research methodology.
Affiliates