CSDE Welcomes Jennifer Utrata, Visiting Burkhardt Fellow
Posted: 9/28/2018 (CSDE Research)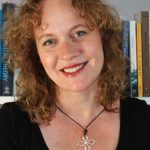 The CSDE community is thrilled to welcome Jennifer Utrata, Associate Professor of Sociology at the University of Puget Sound, for the 2018-19 academic year. Utrata is a visiting scholar as part of her American Council of Learned Societies (ACLS) Frederick Burkhardt Residential Fellowship for Recently Tenured Scholars.
Utrata is interested in how economic and cultural transformations shape gender and intimate relationships in families. Her award-winning book, Women without Men: Single Mothers and Family Change in the New Russia (Cornell, 2015), analyzes how ordinary people, especially single mothers, navigate the transition from state socialism to market capitalism during Russia's "quiet revolution" in family life. She has also written about nonresident fathers and divorce, the effects of work insecurities and neoliberal capitalism on the self, intergenerational relations between grandmothers and adult children, the intersectionality of gender and age, and the ways in which unpaid care work shapes gender inequality. Her current research examines how "intensive grandmothering" in the United States affects the transition to parenthood, parents' responses to the child-care crisis, and broader inequalities among families.
Utrata received one of 10 nationwide Burkhardt fellowships, which support long-term projects in the humanities and social sciences. She is part of the third cohort of the newly expanded program, which now offers special opportunities for recently tenured faculty at liberal arts colleges to take up residency in university departments and centers for a year of research, writing, and fruitful collaboration.
Affiliates