Formal Demography Working Group – Estimating Adult Mortality (11/29/22 @6am)
Posted: 11/12/2022 (CSDE Research)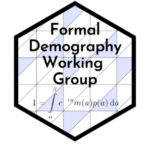 Monica Alexander and the U of Toronto team are hosting the next meeting of the Formal Demography Working Group on Tuesday, 29 November at 9am ET (Toronto time) [11am Belo Horizonte time, 3pm Vienna/Rostock/Denmark time]. Bernardo Queiroz will give a talk on "Estimating adult mortality in countries with defective data: some alternative approaches"
Zoom details:
Zoom link: https://utoronto.zoom.us/j/88513950799
Meeting ID: 885 1395 0799
Passcode: eulerlotka
Announcements:
– The Danish Centre for Population Research at the Interdisciplinary Centre on Population Dynamics (CPop) is opening one or more positions of associate professor in demography. Applications close 1 December. See here  for more details.
– Demographic Research has a new special collections on 'Innovations in measuring adult mortality in countries with deficient civil registration'. If you work in this area, please consider submitting a manuscript. More info can be found here.
– The Lab of Digital and Computational Demography at MPIDR is running a summer incubator on population and social data science. This is a great opportunity for students to work on a collaborative team project over summer! More details here.
Links:
– Here is our website.
– Meetings are recorded for those who are unable to join us. Previous recordings can be found here [youtube.com].
– If you are interested in presenting at a future meeting, fill out this form. [docs.google.com] Sorry to those in Australia/NZ/Asia-Pacific and the west coast of US — we know meeting timings have been hard to get to. If you'd like to present (or have suggestions of people to invite) in your time zone, please let us know!!!
Time: Tuesday Nov 29th, 9AM EST
Location: Online here