CSDE Enjoys Holiday Spirit Boost with New Administrator's Arrival!
Posted: 12/7/2018 ()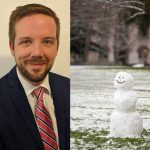 Scott Kelly has joined CSDE's team from Vanderbilt University where he served in research administration and program management roles from 2013-2018. A Certified Research Administrator accredited by the Research Administrators Certification Council, Scott serves as the primary administrative contact for grants and contracts through CSDE. Don't hesitate to stop by his office in 206 Raitt Hall and say hello!
CSDE wishes all demographers out there happy holidays and a restful break (and success with final exams, if applicable). Our weekly newsletter will be back in January with more opportunities, events and research highlights!