Join Us for the Second Biomarker Working Group on AddHealth Study Data
Posted: 11/16/2018 (CSDE Research)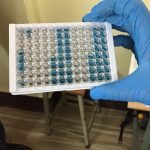 The second Autumn 2018 Biomarker Working Group will take place on Tuesday, November 27, 2:00-3:00 PM, in 114 Raitt Hall. We will discuss the biomarker data collected in the National Longitudinal Study of Adolescent to Adult Health (Add Health) and its uses. Working group participants Vanessa Oddo, and CSDE Affiliates Anjum Hajat and Paula Nurius, have generously agreed to share their experiences with getting started with AddHealth data, and we'd like to invite others who have used any variables from AddHealth to add to this informal discussion.  Please contact Ellie Brindle if you would be willing to provide insights or take questions about using AddHealth data.
The purpose of the Biomarker Working Group is to provide a forum for discussions of practical and theoretical issues associated with collecting and using biomarker data in social and behavioral science research. We hope to provide an opportunity for faculty and students with an interest in biomarker methods to meet researchers with similar interests from departments across campus.
Those who would like to receive regular meeting announcements by email may subscribe to the mailing list.  If you are interested in joining remotely, please RSVP to Ellie Brindle before each session to receive instructions.
Affiliates