Northwest Federal Statistical Research Data Center Panel
Posted: 1/2/2018 (CSDE Seminar Series)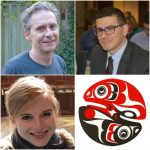 Join CSDE this Friday as we kick off our winter quarter seminar series!
Are you a data geek? Have you wondered about gaining access to the UW's secure data center and having the opportunity to analyze linked databases about health, demography, employment, income, residences, and environment and that include censuses of people, businesses, and households?  If so, you'll enjoy hearing Ben Cerf, Mark Ellis, and Christine Leibbrand speak about resources at the Northwest Federal Statistical Research Data Center, as well as some ongoing projects there.
We are also pleased to announce our Winter 2018 Seminar Schedule, featuring an exciting lineup of speakers from a variety of disciplines and institutions!  All are welcome to attend to these informative and engaging events, which boast free admission.
Date: 01/05/2018
Time: 12:30-1:30 PM
Location: 121 Raitt Hall