PAA 2019 is Around the Corner
Posted: 12/7/2018 (CSDE Research)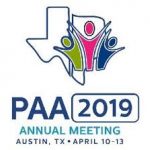 PAA has released information you need to get ready for the 2019 Annual Meeting, which will take place in Austin, TX, April 10-13. Follow the links to find out more about Registration, Hotel and Travel Information, Workshop & Mentoring Events Information, Exhibitor & Sponsors List, and Exhibitor and Sponsorship Opportunities.
Exciting new developments for PAA 2019 include 30 proposals for first-time Workshops, a dedicated flash session for practically every topic area, poster reviewer recruiting, a speed networking event, and sunrise yoga. More details about a dependent care program and volunteer opportunities will be available early next year.
Other important announcements:
In order to register, you must agree to abide by PAA's Anti-Harassment Policy
 If you have been selected to present, you must register by January 14, 2019
To reduce waste, please reserve a print copy of the 2019 PAA Annual Meeting program book when you register. Internet access will be available again this year.