Phyllis Fletcher Named Editor of the Year by Public Radio News Directors Incorporated
Posted: 5/31/2017 (CSDE Awards and CSDE in the News)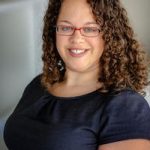 Phyllis Fletcher, former CSDE Trainee and managing editor at Northwest News Network, was recently selected as the inaugural recipient of PRNDI's "Editor of the Year" award.
"Phyllis Fletcher is one of the finest editors working in public media today," says PRNDI President Terry Gildea. "Her positive influence on the many reporters she has worked with is evident in the work they have produced."
While working on her Training Certificate with CSDE, Phyllis obtained a Master of Communications from UW. Her final project designed a radio series about nearby school districts hit hardest by the recession, and she analyzed one-year American Community Survey estimates to find the school districts and develop the stories. The statistical analysis techniques and global perspectives she refined during the Demographic Methods Certificate Program are sure to have helped prime her storytelling success outside the university. Congratulations, Phyllis!
You can learn more about CSDE's Certificate Program here.