CSDE Affiliates Awarded UW Population Health Initiative Pilot Research Grants
Posted: 3/25/2018 (CSDE Research)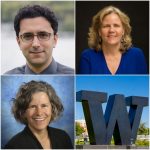 CSDE Affiliates Ali Rowhani-Rahbar, Karen Fredricksen-Goldsen, and Marieka Klawitter were members of teams recently awarded Population Health Initiative grants. The Rowhani-Rahbar project examines lethal means assessment for suicide prevention.  The team led by Fredricksen-Goldsen examines health disparities in Washington State and the role of social and economic inequities in intersectional marginalized populations. CSDE also provided matching support to the Fredriksen-Goldsen and Klawitter project proposal.
These faculty-led teams have been awarded $50,000 to address the critical components of population health. Affiliate Ali Mokdad, Professor of Global Health and Vice Chair of the Population Health Initiative, said of the awardees: "We believe each of these projects has the potential to make significant progress towards reducing disparities and improving population health at the local, national and international levels." Other team members include:
Lethal Means Assessment in Psychiatric Emergency Services for Suicide Prevention
– Affiliate Ali Rowhani-Rahbar, Epidemiology
– Paul Borghesani, Psychiatry and Behavioral Sciences
– Jennifer Stuber, Social Work
– Anna Ratzliff, Psychiatry and Behavioral Sciences
– Frederick Rivara, Pediatrics
Addressing Health Disparities in Washington State: The Role of Social and Economic Inequities in Intersectional Marginalized Populations
– Affiliate Karen I. Fredriksen-Goldsen, Social Work
– Barbara Cochrane, Family and Child Nursing
– Corinne S. Heinen, Family Medicine
– Affiliate Marieka Klawitter, Public Policy & Governance
– Charles A. Emlet, UW Tacoma
– Hyun-Jun Kim, Social Work
The Population Health Initiative seeks to expand University of Washington's capacity to address challenges to the health and well-being of of populations through collaborative and interdisciplinary research. Learn more about the Initiative and its pilot research grant awardees below.
Affiliates