Sarah Elwood Explores Disruptive Poverty Politics
Posted: 9/16/2018 (CSDE Research)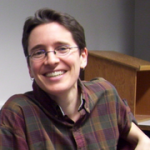 In a recent publication CSDE Affiliate Sarah Elwood, Professor in the Department of Geography at the University of Washington, and co-author Victoria Lawson explore how creative activism can introduce disruptive poverty politics.
Elwood and Lawson focus their research on Real Change, an organization based in Seattle, that publishes a weekly newspaper with content focused on poverty and homeless issues. The newspaper is sold by self-employed vendors, many of whom are houseless. The mission of Real Change is "to provide opportunity and a voice for low-income and homeless people while taking action for economic, social and racial justice."
Elwood argues that creative poverty activism produces performative encounters create connections between those experiencing poverty and those who are not. Through public art and performance, activists bring poverty knowledge into public spaces, which "create encounters across socio-spatial difference that challenge privileged subjects, raise new voices, and create previously unimaginable political forms." Their analysis builds on prior poverty politics work to explore the possibilities of visual, performative, and creative activism.
You can read Elwood's paper below.
Affiliates