Social Science Community Honors Charlie Hirschman
Posted: 11/19/2018 (CSDE Research)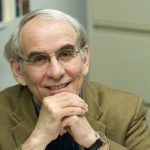 Last Friday, professors, students, scholars, family and friends gathered to honor Charles Hirschman on the occasion of his retirement. Charlie, as he is better known, retired as Boeing International Professor in Sociology and the Evans School of Public Policy in September 2017. Thankfully for many of us, retirement for Charlie is a relative state of being. He is currently Professor Emeritus of Sociology at UW comes to the office almost every day to work on the many projects that still remain on his desk!
Charlie's event included a symposium titled Looking Back to Find the Future: Reflections from Social Science for a Changing World and was then followed by a celebratory reception emcee'ed by UW's former chairs of Sociology Jerry Herting and Stew Tolnay, including a tribute to Charlie's career and contributions titled Travels with Charley. During the symposium panelists tackled the social science questions that animated Charlie's career, including provocations and reflections from distinguished visitors Patrick Heuveline, M. Giovanna Merli, Alejandro Portes, Kenneth Prewitt & Marta Tienda, and UW Professors Sandra Archibald, Dan Chirot, Sara Curran, Mark Long, Celia Lowe, Adrian Raftery and Katherine Stovel. While Charlie's intellectual impact to the field of Sociology is remarkably broad and deep, the event highlighted the sheer number of students and scholars who were moved and shaped by Charlie's guidance, mentorship, generosity and humanity.
If you would like to leave a tribute for Charlie, the portal is still open and can be found at the bottom of the event page. We will be collecting and then sharing by the end of the month. In lieu of a gift, please consider a donation to the Charles and Josephine Hirschman Endowed Fund for Graduate Research.
CSDE would like to thank all those who helped make the symposium and reception possible including the UW Department of Sociology, the Evans School of Public Policy & Governance, East Asia Center, Southeast Asia Center, and The Earl and Edna Stice Memorial Lectureship.  Special thanks to wonderfully generous individuals for their time, skills, and wisdom, including Sandra Archibald, Katherine Stovel, Sara Basque, Bely Luu, Alan Li, Matt Dunbar, Luiza Barbato Montesanti, Kristian Haapa-aho, Joanna Medina, Shannon d'Layne Bush, Kristi Roundtree, Ulrika O'Brien, Fatema Mooktiar and Megan Lynn.
Here are a few more details about the program and Charlie.
About Charlie
Charles Hirschman retired as Boeing International Professor in the Department of Sociology and the Daniel J. Evans School of Public Policy and Governance in September 2017. He is currently Professor Emeritus of Sociology at the University of Washington. Hirschman received his BA from Miami University (Ohio) in 1965 and his Ph.D. from the University of Wisconsin-Madison in 1972. In between those degrees, he served as a U.S. Peace Corps Volunteer in Malaysia. After his PhD, he taught at Duke University (1972 – 1981), Cornell University (1981 – 1987) and the University of Washington (1987-2017). He served as director of the UW Center for Studies in Demography and Ecology from 1987 to 1995 and as chair of the Department of Sociology from 1995 to 1998. In addition to his academic appointments, Hirschman worked for the Ford Foundation (in Malaysia) in 1974-75, and was a visiting fellow at the University of Malaya (1984), Australian National University (1985), the Center for Advanced Studies in the Behavioral Sciences (1993-94), the Russell Sage Foundation (1998-99), and the Population Reference Bureau (2005-06), and was Fulbright Professor at the University of Malaya (2012-13).
Hirschman's teaching and research focus on demography, immigration and ethnicity, and in the United States and Southeast Asia. He has authored or edited four books (most recently, From High School to College: Immigrant Generation, and Race-Ethnicity, Russell Sage, 2016), more than 125 articles/book chapters, and 50 book reviews/comments. He has been elected President of the Population Association of America (2005), Chair of Section K (Social, Economic, and Political Sciences) of the American Association for the Advancement of Sciences (2004-05), and is an elected fellow of the American Academy of Arts and Sciences and of the American Association for the Advancement of Science.  Over the years, he has chaired at least 30 PhD committees, 20 MA committees, and mentored 11 postdoctoral fellows.
Symposium Program
Looking Back to Find the Future
Reflections from Social Science for a Changing World
Friday November 16, 2018 – Walker-Aimes Room, Kane Hall
12:30pm
Welcome
Robert Stacey Dean of the College of Arts & Sciences
Sandra Archibald Dean of the Evans School of Public Policy & Governance
Katherine Stovel Chair of the Department of Sociology
12:45pm
American Social Science in the Asian Century: What Role for Area Studies?
Patrick Heuveline Sociology, UCLA
Maria-Giovanna Merli Sociology & Public Policy, Duke University
Celia Lowe Anthropology & International Studies, UW
2:00pm
Understanding and Responding to Rising Inequality
Marta Tienda Sociology & Public Policy, Princeton University
Mark Long Public Policy & Governance, UW
Katherine Stovel Sociology, UW
3:15pm
Human Science: In a Hole and How to Climb Out
Kenneth Prewitt Public Policy, Columbia University
Adrian Raftery Sociology & Statistics, UW
Sandra Archibald Public Policy & Governance, UW
4:30pm
Prospects for Compassionate Futures: Insights from Immigration & Area Studies
Alejandro Portes Sociology & Law, Princeton University & University of Miami
Daniel Chirot Sociology & International Studies, UW
Sara Curran International Studies & Sociology, UW
5:30pm
Closing & Reception Welcome
Sara Curran International Studies & Sociology, UW
6:30pm
Reception Remarks
Emcees:
Jerry Herting Sociology, UW
Stew Tolnay Sociology, UW