Trainee Spotlight: Claire Rothschild Poster Winner at Fall 2019 CSDE Lightning Talks
Posted: 1/18/2020 (CSDE Research)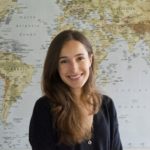 There is a high interest in using mobile phones to collect health information, which may be a low-cost and efficient way to engage with hard-to-reach populations, nevertheless there can be limitations population representations when using such data. During the Fall 2019 Lightning Talks, CSDE Trainee Claire Rothschild presented a winning poster that demonstrated the methodological promises and pitfalls of mobile phone data collection and access. Claire and her collaborators (CSDE Affiliates Alison Drake, Brandon Guthrie, and Grace John-Stewart) focused on evaluating population representation among samples of women who participate in studies using mobile phone-based data collection in Kenya and elsewhere in sub-Saharan Africa.
Claire and her team utilized enrollment data from a cohort study of female contraceptive users in Kenya, which used a text-messaging platform to capture information on contraceptive experiences from participants. They found that a substantial proportion of women who reported having daily access to a mobile phone did not have the phone with them at the health facility, and that these women were younger, had lower household income, and reported longer travel times to the health facilities than women who brought their mobile phones with them.
Claire's findings are consistent with studies that show that phone sharing is common in sub-Saharan Africa, particularly among rural, low-income, and female populations. Despite high mobile subscriptions per capita, phone-sharing and resulting privacy issues, limited access to electricity for phone charging, and other aspects of phone use may limit who is able to participate in mobile data collection.
Claire is a PhD Candidate in Epidemiology. Her dissertation research (supported by an NIH/NICHD F31 pre-doctoral fellowship) focuses on identifying predictors of contraceptive dissatisfaction and early discontinuation. Her aim for this research is to support clinical interventions that can improve women's experience using contraception. CSDE congratulates Claire on her accomplishments!
Additionally, the Winter 2020 CSDE Biannual Lightning Talks and Poster Session application is now available! The deadline for the application and to submit your brief abstract is WEDNESDAY, JANUARY 29th. Contact Emily Pollock (emilypo@uw.edu) if you have any questions.
Affiliates