Center for Studies in Demography and Ecology
Stepping Out of Your Cultural Zone: Gentrification, Aging in Place, and the SHARP Study
Posted: 5/20/2022 (CSDE Seminar Series)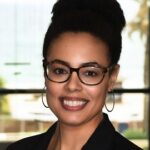 This week we will host Assistant Professor of Neurology at Oregon Health & Science University, Raina Croff as the final speaker for our seminar series this academic year. Dr. Croff will examine the impact of gentrification on healthy aging among minoritized older adults, looking specifically at how aging in place within gentrifying neighborhoods may exacerbate risk factors for cognitive decline. The Sharing History through Active Reminiscence and Photo-imagery (SHARP) study aims to do this through integrating walking, conversational reminiscence, and technology in Portland, Oregon's historically Black neighborhoods, and is now being replicated in Seattle's Central District.
You can register for the seminar HERE, and check out all the upcoming topics and register for future seminars on our website.
This seminar is co-sponsored with the Population Health Initiative.
Date: 05/27/2022
Time: 12:30-1:30 PM PT
Location: Hans Rosling Center Room 101 & Virtual on Zoom