Tim Thomas, Ott Toomet, and Ian Kennedy Help Shape Evictions Policy in Washington State
Posted: 5/14/2019 (CSDE Research)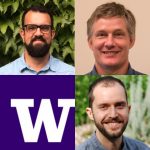 Governor Jay Inslee just signed Senate Bill 5600 into law, extending the evictions pay-or-vacate notice from 3-days to 14-days. The Washington Evictions Research Project (WAEV) provided groundbreaking empirical evidence for stakeholders and policymakers to pass this legislation through the house and senate.
Congratulations to CSDE Affiliates Tim Thomas, Postdoc in Sociology and the eScience Institute, and Ott Toomet, Faculty Lecturer in the iSchool, and CSDE Trainee Ian Kennedy, Graduate Student in Sociology, who were part of the research team! CSDE supported the project with material and staff assistance.
Their research found that evictions are prevalent, are a civil rights issue, and are legally underrepresented. They also found that evictions occur most in neighborhoods with high racial diversity and high compositions of residents of color, located in the southerly suburbs of King County, and concentrated in the urban, historically Black segregated, neighborhoods of Tacoma and Everett.
The WAEV project is still in its early stages. Regardless, its impact on this legislation provides an important step towards curbing the rise in homelessness by keeping vulnerable tenants housed.
This research was conducted within the context of the Cascadia Urban Analytics Cooperative and the UW Urban Analytics Group led by Bill Howe, with funding from Microsoft, the Bill and Melinda Gates Foundation, and the eScience Institute. Additional funding for this research was provided by Enterprise Community Partners, the Gordan and Betty Moore Foundation, and the Alfred P. Sloan Foundation.
Affiliates