Tim Thomas's Report on Disproportionate Evictions of Black Residents Featured in Multiple Media Outlets
Posted: 2/15/2019 (CSDE Research)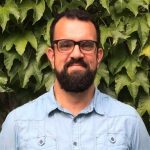 CSDE Affiliate Tim Thomas, Data Science Fellow at the eScience Institute & Department of Sociology, heads the UW Evictions Project and is the lead researcher for a report recently released by Washington State's Democratic legislators in support of legislation aimed at redressing the housing crisis.
The study looks at evictions across Washington and finds that they disproportionately affect women and people of color. Researchers determined that 1 in 11 black King County residents were evicted between 2004 and 2017. In Pierce County, one in six black residents were evicted over the same time span.
Thomas conducts research on how evictions intersect with race, gender, and class. "Not only are evictions a function of the housing crisis, and [a contributor] to the homeless population, but [they are] also a civil rights issue," he said.
The researchers scraped court records from across Washington state to get names and addresses of people who had "unlawful detainers" — were given three days to pay rent or move out, and who didn't pay up. They then used machine learning on those two pieces of information to infer the races of the people on the list.
Media mentions include KUOW, The Daily UW, Sequim Gazette, SeattleMet, KOMO News
Affiliates