PAA Practice Presentations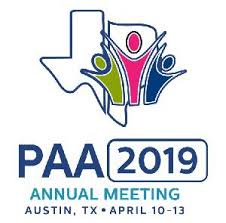 PAA Practice Presentations
Hilary Wething, Public Policy
Christine Leibbrand, Sociology
Ian Kennedy, Sociology
Lauren Wyszynski, IHME
Yuan Hsiao, Sociology and Statistics
Neal Marquez, Sociology
04/05/2019
12:30-2:15 PM PT
To help prepare for PAA and improve your presentation skills, CSDE is hosting a practice presentation session the week before PAA. We hope that everyone will attend to present, discuss, or just observe! The format is informal and is a great opportunity to hone your presentation and get feedback from friends and colleagues. Faculty reviewers will be assigned to each paper and provide feedback on the design and delivery of your presentation. We will also have a mock poster session where you will be able to share electronic drafts of your posters (displayed on large computer screens, so early printing isn't necessary). Lunch will be provided.
All PAA participants – regardless of experience – are strongly encouraged to take advantage of this important opportunity for feedback. Please use this page to indicate your participation. We'll use the same page for uploading your presentation materials in a few weeks. Note that if you're presenting multiple papers, please select only one that you would like to present. Additional posters are always welcome. If you would like to share a presentation and a poster, please complete the form twice.
12:30 PM Introduction
Sara Curran, CSDE Director and PAA Vice President-elect
12:35 PM Poster Session and Lunch
Hilary Wething, Evans School of Public Policy and Governance
"The Effect of Seattle's Paid Sick and Safe Time Ordinance on Workers' Employment Trajectories"
12:55 PM Oral Presentations
Christine Leibbrand, Sociology
"The Role of Race, Ethnicity, and Gender in the Internal Migration Decline"
Ian Kennedy, Sociology
"How Mentions of Criminal Histories in Seattle Rental Listings Have Evolved With Tenant Screening Regulations"
Lauren Wyszynski, Institute for Health Metrics and Evaluation
"Local Variation in Educational Attainment in Low- and Middle-Income Countries (2000-2017)"
Yuan Hsiao, Sociology and Statistics
"Estimating U.S .Internal Migration Flows in a Timely Way by Complementing the American Community Survey With Geolocated Twitter Data"
Neal Marquez, Sociology
"Segregation and Sentiment: Estimating Refugee Segregation and Its Effects Using Digital Trace Data "
2:05 PM Discussion
You can download and distribute the flyer here.
---