Clara Berridge's AARP/FPF Presentation Available on YouTube!
Posted: 5/10/2021 (CSDE Research)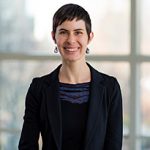 CSDE Affiliate and UW Social Work Assistant Professor Clara Berridge provided a keynote lecture on Adding Age to AI: The Importance of Representing Older Adults in Data and Design, as part of a joint AARP & Future of Privacy Forum (FPF) event on March 18th, 2021. If you missed the presentation, the recording is now available on YouTube.
Affiliates