Center for Studies in Demography and Ecology
Partition Theorem in Populations and its Role in Determining the Stationary Status of a Population
Posted: 2/15/2021 (CSDE Seminar Series and Local Events)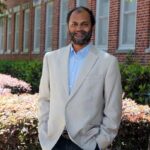 At the CSDE seminar on February 19th, Dr. Arni Rao will present "Partition Theorem in Populations and its Role in Determining the Stationary Status of a Population". CSDE Regional Affiliate David Swanson will moderate the discussion. Dr. Rao will discuss the importance of the Net Reproductive Rate (NRR) for understanding population change in a timely manner that can inform policy and planning decisions, as well as the importance of understanding variation in groups that are and are not experiencing population growth over time. Dr. Rao is a Professor and Director of the Laboratory for Theory and Mathematical Modeling in the Division of Infectious Diseases at the Medical College of Georgia.
Register for Dr. Rao's Zoom seminar here. This quarter, CSDE is recording the seminar series and posting the links on its website. Visit our site here.
After the seminar, UW Sociology PhD student Neal Marquez will facilitate a graduate student discussion with Dr. Rao. RSVP by emailing him at nmarquez@uw.edu.
Date: 02/19/2021
Time: 12.30 - 1.30 pm
Location: Virtual via Zoom
Affiliates