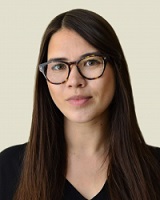 Patricia Louie
Assistant Professor, Department of Sociology
University of Washington
Box: 353340

website
---
CSDE Research Areas:
Environments and Populations
Health of People and Populations
Migration and Settlement
In the News:
---
Patricia Louie is currently an Assistant Professor of Sociology at the University of Washington. Her research focuses on the role that social factors play in driving racial disparities in physical and mental health. In one stream of research, she focuses on the role of stress and coping resources in explaining Black-White differences in mental health. In a second stream of research, she complicates how race is used as a variable in health disparities research by considering how different specifications of race (such as skin tone or disaggregated multiracial status) can influence how we understand race-health relationships. Currently, Louie is using a cross-national comparative approach to understand how race as a social status plays out across countries with different racial compositions, race and migration histories, and social welfare systems. This project advances the study of racism as a social determinant of health by examining the meaning as well as the implications of race as a system of social stratification across nation states.
Louie's research has been published in journals such as the Journal of Health and Social Behavior, Social Science and Medicine, and American Journal of Epidemiology. To date, she has received funding from the Social Sciences and Humanities Research Council ($105,000), the Michigan Center for Urban African American Aging Research, and the Canadian Sociological Association.