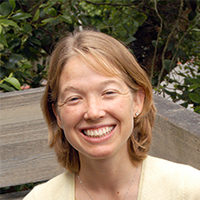 Sarah Stone
Executive Director, eScience Institute
University of Washington
Tel: 206-543-9674 Box: 351570

website
---
CSDE Committees: Executive Committee Member
CSDE Research Areas:
Environments and Populations
In the News:
---
Sarah Stone is Executive Director of the University of Washington's eScience Institute and a Deputy Director for the West Big Data Innovation Hub (WBDIH). Stone has a passion for fostering education and research collaborations across disciplines. She co-leads the UW Data Science for Social Good (DSSG) program and is involved in thematic development for the WBDIH Metro Data Science working group. In her role as eScience Director of Data Science Education, she co-chairs the Education and Career Paths Special Interest Group and helps departments across campus develop data science specializations. Stone handles eScience operations and planning, serving as a primary contact for university and industry partners, funding agencies and the public. Prior to joining eScience, Stone was an Assistant Professor in the Department of Oceanography at Humboldt State University in northern California. She has been involved in several large, interdisciplinary research projects in oceanography and has a specialty in zooplankton ecology.