Population Research Discovery Seminar: How Does Big Data Contribute to Improved Demographic Knowledge?
Posted: 11/11/2016 (CSDE Seminar Series)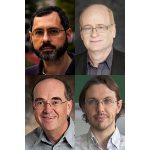 Join us for a provocative panel discussion among leading demographers about the opportunities and pitfalls of big data for improving population health knowledge.
Patrick Gerland has been the Chief of the Mortality section since Sept. 2014, and for the past decade senior analyst in UN Population Division. His research interests focuses on mortality analysis, demographic estimation and projections, especially in Africa and Asia. He has a strong interest in the development of new methodology and collaborates with academic research groups in improving the estimation of adult mortality and incorporating uncertainty in demographic modeling, population reconstruction and probabilistic projections.
Thomas LeGrand is a Full professor at the Département de démographie at the Université de Montréal, where he was the Director from 2010-2014. He is currently (2014-2018) the Vice President of the International Union for the Scientific Study of Population (IUSSP/UIESP) and will serve as its President-elect from 2018-2021. His research addresses major population issues in developing countries including fertility, transitions to adulthood, support for the elderly, and determinants of health for children.
Adrian Raftery is Professor of Statistics and Sociology and a faculty affiliate of the Center for Statistics and the Social Sciences and the Center for Studies in Demography and Ecology at the University of Washington (UW). He works on the development of new statistical methods for the social, environmental and health sciences.
Emilio Zagheni is an Associate Professor in the Department of Sociology and a Data Science Fellow & Washington Research Foundation Assitant Professor in the eScince Institue, both at the University of Washington. He is also a faculty affiliate and training program director at the Center for Studies in Demography and Ecology. He studies the causes and consequences of demographic change using mathematical, statistical, and computation approaches.
Schedule a meeting with Dr. Patrick Gerland: http://doodle.com/poll/78h3s8uc8aayg8tb
Schedule a meeting with Dr. Tom LeGrand: http://doodle.com/poll/p3b5vamg2yzwa7df
Date: 11/18/2016
Time: 12:30-1:30 PM PT
Affiliates