Amy Hagopian Discusses how Police Violence Could Benefit from a Public Health Approach
Posted: 6/4/2018 (CSDE in the News)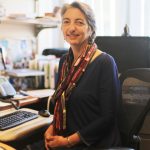 It's been nearly a year since Charleena Lyles was shot and killed by Seattle police officers. Last week, members of Lyles' family joined policy experts in a panel discussion to explore community and legal strategies to stop police violence.
Prior to the event, KUOW interviewed Affiliate Amy Hagopian, Associate Professor of Health Services and Global Health, to discuss how opening dialogue between victims and policy makers can frame new ways to prevent crises: "I think it's an interesting thing to bring together victims with policy people… So it's not just academics who are thinking about this in a cerebral way, but actual people who have been hurt by police."
Police violence, Hogopian adds, is a problem that could benefit from a public health approach. "We'd like to see more research on this. We'd like to see preventive activities take place. We'd love to see new capacity to respond to mental health crises other than to deploy officers with guns."
You can listen to the full interview below.