Anjum Hajat and CSDE Affiliates Receive $1.4 Million NIH Grant to Examine "Precarious Work" and Health Disparities
Posted: 2/25/2019 (CSDE Research)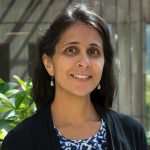 Well-deserved congratulations to CSDE Affiliate Anjum Hajat, Assistant Professor of Epidemiology at the School of Public Health, who won a four-year, nearly $1.4 million research grant (R01) from the National Institutes of Health to examine how declining employment quality, including cuts in employee benefits, may contribute to the widening of health disparities. The research team includes three other CSDE Affiliates: Marco Carone, Assistant Professor of Biostatistics, Noah Seixas, Professor of Environmental and Occupational Health Sciences, and Kyle Crowder, Blumstein-Jordon Professor of Sociology. CSDE provided some support for this initiative in its early stages, through consultation on scientific methods and support of a working group.
The objective of the study is to use novel approaches to better understand the role of precarious work in explaining differences in the incidence and prevalence of diseases and mortality. "Our study examines how declining employment quality, including things like non-standard work and fewer benefits, may be contributing to the widening of health disparities," Hajat said. "Since employment is amenable to change, either through policy or employer-specific initiatives, this study has the potential to improve the health of millions of American workers."
The researchers plan to use the Health and Retirement Survey, which tracks people as they transition from work to retirement, and the Panel Study of Income Dynamics, which has been following a cohort for over 40 years. They will construct a longitudinal work history, including metrics of precarious work for both cohorts. Using these metrics, the study will evaluate the mediating role of precarious work in explaining disparities in self-reported health, mental health and mortality. Researchers will also compare the contribution of precarious work relative to other pathways, such as health behaviors and hazardous working conditions, in producing disparities in these same health outcomes. Additionally, the study will examine how employer-based and state policies that relate to precarious work impact health disparities.
Affiliates