Center for Studies in Demography and Ecology
CSDE Affiliates Hill, Otten, and Buszkiewicz Examine Health Effects of Minimum Wage Policy
Posted: 2/15/2020 (CSDE in the News and CSDE Research)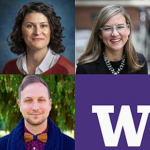 A key motivation for increasing minimum wages is to induce positive health outcomes for adult workers. However, CSDE Affiliates Heather Hill and Jennifer Otten, along with their co-author James Buszkiewicz, find no overall association between minimum wage increases and health in their recent article published in the American Journal of Epidemiology—"State Minimum Wage Rates and Health in Working-Age Adults using the National Health Interview Survey"—this is an outcome that contrasts with results of previous studies finding positive health benefits from minimum wage policies.
The authors use a rigorous "triple difference" strategy with a sample of more than 131,000 adults to find associations between state minimum wages and adult obesity, body mass index, hypertension, diabetes, fair or poor health, and serious psychological distress. Though Hill, Otten, and Buszkiewicz find no overall association between these health factors and minimum wage, they do find varying health outcomes within different sub-groups of the sample. For example, the authors find that wage increase is associated with higher rates of obesity among people of color.
This new study can help inform policymakers as they consider minimum wage increases. In an article for UW News, Hill stated that "cities and counties are increasing minimum wages with very good intentions, which is to benefit lower-earning workers and reduce inequality, and yet we still need more research evidence on the effects of the minimum wage on health…In particular, we need to understand how it affects different types of workers differently."
The study was published in the American Journal of Epidemiology, you can read the full version here.
Affiliates