CSDE Lightning Talks and Poster Session
Posted: 3/11/2019 ()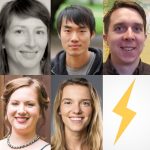 At the last Friday of the Winter quarter, join us in celebrating CSDE's graduate students and learning about their cutting-edge research and latest demographic insights! These early-career members of the population science community are eager to connect their work across disciplines, and translate their findings for basic and applied research impact.
Erin Carll, Sociology
How Discourse about Tenant Eligibility in Seattle Rental Listings Has Evolved with Tenant Screening Regulations
Xinguang Fan, Sociology
Intimate Partner Violence and Contraceptive Use in Developing Countries: How does the Relationship Depend on Context?
Lee Fiorio, Geography
Measuring U.S. Interstate Mobility Using State of Birth Stocks: 1850 to 2010
Emily Pollock, Anthropology
Relationship Duration and Hazard of Dissolution Among 15-29-year-olds in the National Survey of Family Growth
Hilary Wething, Public Policy 
The Effect of Seattle's Paid Sick and Safe Time Ordinance on Workers' Earnings Trajectories
Date: 03/15/2019
Time: 12:30-1:30 PM
Location: Green A - Research Commons in Allen Library South