Dan Eisenberg Explores Whether Paternal Age Impacts Offspring's Lifespan
Posted: 3/25/2018 (CSDE in the News)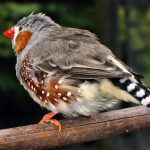 In a pioneering experimental study on the effect that paternal age has on offspring's lifespan and telomere length, Affiliate Dan Eisenberg, Associate Professor of Anthropology, and a team of researchers found that zebra finch embryos with older fathers had shorter telomeres than counterparts sired by younger fathers and the same mother. The telomeres from embryos fathered by older finches were about 10 percent shorter than those with a younger father.
Of the zebra finch findings, Eisenberg noted: "The experimental design of this study looking at the effect of paternal age on telomere length of [zebra finch] embryos is particularly strong, allowing for confidence in these results." Eisenberg researches the impact that paternal age has on telomere length in offspring, with a focus on humans and chimpanzees.
The research team bred 44 pairs of birds and followed their lives from 2012 through 2017. Although older age of both mothers and fathers shortened longevity of their offspring's lifespan, the impact was more marked among older fathers. Just 5 percent of offspring with an older father survived to a year, while 80 percent with a younger father survived to that age.
Affiliates