CSDE Alum, Nikki Eller (Health Services MPH '17), Publishes Article on Vaccine Information Sources and Parental Trust in Care Provider
Posted: 1/15/2019 (CSDE Research)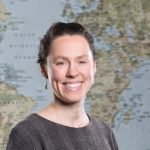 Nikki Eller recently published her master's thesis in Health Education and Behavior. Her analysis of survey data from mothers of healthy newborns in Washington State examines the association between parental trust in their child's health care provider and vaccine information sources. She finds, for instance, that mothers with less trust in their child's health care provider used more and different sources, especially more informal sources, and were less likely to consider their child's pediatrician as their main source of vaccine information compared with more trusting mothers. The authors conclude that future interventions seeking to reduce parental vaccine hesitancy should consider intervention components focused on building or improving parent trust in their child's health care provider.
An early version of Eller's research was presented during the Winter Quarter 2018 lightening talks and poster session. Nikki Eller's poster won the best poster award (click here to read the story).
Nikki currently works at the Washington State Department of Health and has recently been promoted to Regional Evaluation Liaison, representing the Washington State Supplemental Nutrition Assistance Program Education (SNAP-Ed) evaluation team. Nikki will spend time traveling around the state and working with the groups implementing SNAP-Ed programming to do smaller-scale evaluations, and help them understand the picture at the state level.