Center for Studies in Demography and Ecology
You're Invited to CSDE's PAA Reception in Austin
Posted: 4/7/2019 ()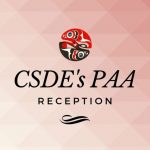 Please join us for a reception for CSDE's community of friends, alumni, and colleagues at the Population Association of America's Annual Meeting.
When: Friday, April 12, 2019, 6 PM
Where: Room 401, JW Marriott. 110 E 2nd St, Austin, TX 78701
Drinks and light fare will be provided. Please RSVP here by April 8, 2019.