Author Meets Critic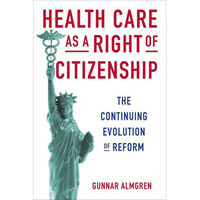 Health Care as a Right of Citizenship: The Continuing Evolution of Reform
Gunnar Almgren, School of Social Work, UW
Paul Burstein, Department of Sociology, UW
12/08/2017
12:30-1:30 PM PT
While the Obama administration's Patient Protection and Affordable Care Act (ACA) has expanded health care coverage for millions of Americans, it has fallen short in offering universal health care to all. In Health Care as a Right of Citizenship, Gunnar Almgren argues that the ACA's primary significance is not in its expansion of health care entitlements but in its affirming by an act of Congress the idea that comprehensive health care must be available to all as a right of citizenship. The mainstream American public now views access to affordable health care to all citizens as a crucial function of just and effective governance—and any proposed alternative to the ACA must be reconciled with that expectation. This ambitious book examines how the American health care system must be further reformed to bring it closer in line with the ideals of a modern democracy, as well as how the ACA may change in the coming years. It suggests the next, natural step in the realization of health and well being as a fundamental human right.
Based on a close analysis of the writings of sociologist TH Marshall and philosopher John Rawls, this book examines the theoretical foundations for health care as a social right of citizenship. Almgren then translates these theoretical principles into core health care policy aims. Throughout, he argues that the ACA is but an evolutionary step toward a more radical and fundamental health care reform. Almgren suggests how such a restructured health care system might operate, with specific proposals for its financing and delivery systems. He also explores the special issues and considerations that all nations must grapple with as they seek to provide a sustainable social right to health care.
---
Gunnar Almgren is a professor in the School of Social Work at the University of Washington and a faculty research affiliate at the University of Washington Center for Studies in Demography and Ecology. He is the author of The Safety Net Health Care System (2011) and Health Care Politics, Policy, and Services: A Social Justice Analysis, Second Edition (2012).