Population Research Discovery Seminars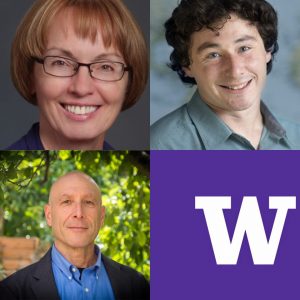 Panel on the Health Risks of Climate Change
Kristie Ebi, Professor, Global Health & Environmental and Occupational Health Sciences, UW
Jeffrey Duchin, Professor, Medicine – Allergy and Infectious Diseases & Epidemiology, UW
Sam Sellers, Senior Fellow, CHanGE, Global Health, UW
01/25/2019
12:30-1:30 PM PT
What the Interactions between Climate and Socioeconomic Changes Could Mean for Population Health over Coming Decades.
Kristie L. Ebi is Director of the Center for Health and the Global Environment (CHanGE), and Rohm and Haas Endowed Professor in Public Health Sciences at the University of Washington. She conducts research and practice on the health risks of climate variability and change for over twenty years, focusing on understanding sources of vulnerability, estimating current and future health risks of climate change, and designing adaptation policies and measures to reduce the risks of climate change in multi-stressor environments. She is author on multiple national and international climate change assessments, including the IPCC Special Report on Global Warming of 1.5°C.  She co-chairs the International Committee On New Integrated Climate change assessment Scenarios (ICONICS) that created five scenarios of socioeconomic development over this century.
Future Drivers of Vulnerability, Particularly Demographic Change.
Sam Sellers is a Senior Fellow at CHanGE. He researches the causes and consequences of mortality related to climate change. He also conducts research about family planning, environmental conservation, gender, and governance. He received his Ph.D. in Ecology from the University of North Carolina at Chapel Hill in 2017, and his BA in Political Science from Swarthmore College in 2011.
A Local Public Health Perspective on Health Impacts of Climate Change.
Dr. Duchin is Seattle and King County's Health Officer for Public Health and Chief of the Health Department's Communicable Disease Epidemiology & Immunization Section. He has served in numerous local and national leadership positions, including as a member of the CDC's Board of Scientific Counselors and the US Advisory Committee on Immunization Practices (ACIP), the Board of Directors of the Infectious Disease Society of America (IDSA), Chair of the Public Health Committee for the IDSA, the National Academy of Medicine's (NAM) Forum on Microbial Threats, and the NAMs Forum on Medical and Public Health Preparedness.
---