CSDE Fellows Invited Lectures
Fellow Host: Hilary Bethancourt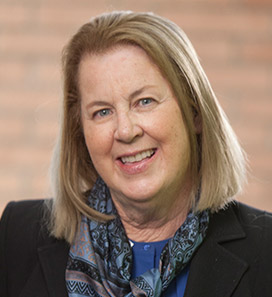 Lifespan and Healthspan: Past, Present, Promise
Eileen Crimmins, Davis School of Gerontology, University of Southern California
02/17/2017
12:30-1:30 PM PT
Eileen Crimmins, demographer and AARP Professor of Gerontology in the Davis School of Gerontology at the University of Southern California, has been invited by CSDE Fellow and Anthropology Doctoral Candidate, Hilary Bethancourt, to visit CSDE as part of the Fellow Lecture series. Under this program, currently and recently funded fellows host a senior population scientist whose research is most important to their own work.  This week's fellow, Hilary Bethancourt, PhD candidate in Anthropology, addresses diet, chronic disease, and longevity in her work.  You can read more about her studies here.
Eileen Crimmins will discuss delayed aging and mortality. It is likely that increases in life expectancy at older ages will continue but life expectancy at birth is unlikely to reach very high levels unless there is a fundamental change in our ability to delay the aging process. We have yet to experience much compression of morbidity as the age of onset of most health problems has not increased markedly. In recent decades, there have been some reductions in the prevalence of physical disability and dementia. At the same time, the prevalence of disease has increased markedly, in large part due to treatment which extends life for those with disease. Compressing morbidity or increasing the relative healthspan will require "delaying aging" or delaying the physiological change that results in disease and disability. Significant improvement in health and increases in life expectancy in the United States could be achieved with behavioral, life style and policy changes that reduce socioeconomic disparities and allow us to reach the levels of health and life expectancy achieved in peer societies.
---
Eileen Crimmins is the AARP Professor of Gerontology in the Davis School of Gerontology at the University of Southern California. She is a member of the National Academy of Sciences, the National Academy of Medicine, a fellow of the American Association for the Advancement of Science, and a University Professor at USC. She is currently the director of the USC/UCLA Center on Biodemography and Population Health, one of the Demography of Aging Centers supported by the U.S. National Institute on Aging. She is also the Director of the Multidisciplinary Training in Gerontology Program and the NIA-sponsored Network on Biological Risk. Crimmins is a co-investigator of the Health and Retirement Study in the U.S. Much of Crimmins' research has focused on changes over time in health and mortality. Crimmins has been instrumental in organizing and promoting the recent integration of the measurement of biological indicators in large population surveys. She recently served as co-chair of a Committee for the National Academy of Sciences to address why life expectancy in the U.S. is falling so far behind that of other countries. She has recently co-edited several books with a focus on international aging, mortality and health expectancy: Determining Health Expectancies; Longer Life and Healthy Aging; Human Longevity, Individual Life Duration, and the Growth of the Oldest-old Population; International Handbook of Adult Mortality; Explaining Diverging Levels of Longevity in High-Income Countries; and International Differences in Mortality at Older Ages: Dimensions and Sources. She has received the Kleemeier Award for Research from the Gerontological Society of America.
---
Hilary Bethancourt is currently pursuing a PhD in Biocultural Anthropology–with a focus on medical and nutritional anthropology–at the University of Washington. She has also received an MA in Biocultural Anthropology and a Master of Public Health in Epidemiology at the University of Washington. Her research interests throughout her graduate studies have been focused on gaining a more comprehensive, interdisciplinary perspective on how human evolutionary history, biology, ecology, and culture have influenced dietary and lifestyle behaviors and growth, development, health, and aging patterns within and across human populations. Hilary's aim of gaining a better understanding of the complex relationships between diet or lifestyle factors and health throughout the life course is driven by the goal of helping to find more effective, accessible, and cost-effective ways of preventing and managing chronic, degenerative diseases and maintaining health and functionality throughout the aging process.