CSDE Lightning Talks and Poster Session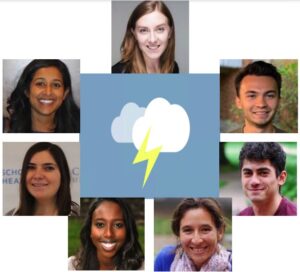 CSDE Winter 2021 Lightning Talks & Poster Session
---
Courtney Allen, Doctoral Student, Sociology – Organizer
---
Nicholas Irons, Doctoral Student, Statistics
Maria Vignau Loria & Aasli Nur, Doctoral Students, Sociology
Zoe Pleasure, Doctoral Student, Health Systems & Population Health
Maitreyi Sahu, Doctoral Student, Health Metrics Sciences
03/11/2022
12:30-1:30 PM PT
Come meet CSDE's trainees when they present their Lightning Talks and Posters. These trainees are eager to connect their work across disciplines, and latest demographic trends with you!
---
Register for Zoom Seminar HERE
Click here to view the poster for this event!
---
Nicholas Irons, Doctoral Student, Statistics
Optimal control of COVID-19 via non-pharmaceutical intervention
Maria Vignau Loria & Aasli Nur, Doctoral Students, Sociology
The diffusion of scientific knowledge on family planning behavior: when, where, and by whom is research being done?
Zoe Pleasure, Doctoral Student, Health Systems & Population Health
Patterns in receipt and source of STI testing among young people in the United States, 2013-2019
Maitreyi Sahu, Doctoral Student, Health Metrics Sciences
Subnational spending on HIV/AIDS and disease burden in Kenya and South Africa, 2010-17