Primary Research Area Panel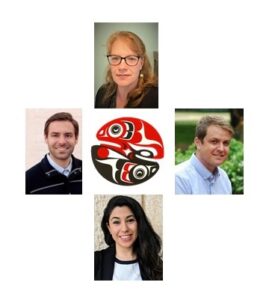 New Methodologies in the Study of Migrations & Settlements
Zack Almquist, Assistant Professor, UW Department of Sociology
Rawan Arar, Assistant Professor, UW Department of Law, Societies, and Justice
Peter Catron, Assistant Professor, UW Department of Sociology
Register for Zoom Seminar HERE
02/05/2021
12:30-1:30 PM PT
Nathalie Williams will moderate this panel
Zack Almquist will present, "Using Social Media to Measure Demographic Responses to Natural Disasters: Insights From a Large-Scale Facebook Survey Following the 2019 Australia Bushfires."
Work joint with Paige Maas, Eugenia Giraudy, and J.W. Schneider at Facebook. In this talk we introduce a novel method of data collection for post-disaster displacement and examine its application to the specific case of the 2019-2020 Australian Bushfires. We build on recent work on geo-located data and use social media as a sampling frame for surveying hard-to-reach populations. This survey was conducted two months after the disaster events under study. Specifically, we leverage Facebook geo-location data to build a stratified random sampling frame for Green Wattle Creek Fire in Eastern New South Wales and the Cudlee Creek Fire in Adelaide Hills, South Australia. Surveying post-disaster and locating respondents has historically been difficult and expensive (Sastry, 2009); and an alternate sampling frame than classic phone, address or in person sampling is needed. Using our novel survey mode, we estimate that 17,973 (17,741; 18,205) people were displaced for at least one night between January and February 2020 in the Adelaide Hills, South Australia region. In our sample of respon- dents who were in the disaster affected regions, 25.5% were displaced at least one night; of those displaced, 42% returned home within a week, 32% within two weeks, 13% within a month and 9% were still displaced at the time of the survey.
Rawan Arar will present, "How Do We Know What We 'Know' About Refugees?."
Who is given the platform to speak about refugee experiences? And, how are these refugee stories curated and amplified? I find that some refugee experiences are overrepresented – such as Syrians in UN-run camps – while other refugee experiences are concealed because they are of less interest to those who construct the global refugee story. This narrative is a form of knowledge production that establishes basic facts about who refugees are, where they come from, and what they deserve. The global refugee story describes the "refugee problem," and in doing so, facilitates a limited range of possible "solutions." As scholarship about refugees is burgeoning, the global refugee story has implications for academic knowledge production, especially regarding methodological choices including case selection, sampling, and generalizability. My findings emerge from 16 months of ethnographic observations and 175 interviews with Syrian refugees, Jordanian citizens, and UN, NGO, and government officials. I also use textual analysis of media, humanitarian, and government documents from 2009 to 2019. 
Peter Catron will present, "The English Language Acquisition of Refugees in the Historical United States."
In this talk, I discuss the determinants and consequences of English acquisition for immigrants who came to the US during the Age of Mass Migration, one the largest migration episodes in modern history. This work is joint with Ran Abramitzky (Stanford economics), Leah Boustan (Princeton economics), Dylan Connor (ASU geography), and Robert Voigt (Northwestern linguistics). We first construct a new database based on oral history interviews with 1,200 immigrants who entered the US through Ellis Island between 1900 and 1930. We code detailed information on their pre-migration attributes and their English proficiency, as observed in actual speech patterns. We then link these immigrants to historical population censuses to observe their educational background and labor market performance. We find that refugee migrants achieved the highest levels of English proficiency, and that English proficiency was in turn associated with higher levels of earnings. For immigrants who arrived as adults, English proficiency was a stronger predictor of higher incomes than years of schooling. Our findings improve on self-reported measures of English proficiency found in the census, and are consistent with the idea that refugees have stronger incentives to invest in their human capital in the host country because they are unable to return. 
---
Zack W. Almquist is currently an Assistant Professor of Sociology and Senior Data Science Fellow in the eScience Institute at the University of Washington. Prof. Almquist currently serves as CSDE's Training Core PI and co-chair of CSDE's Primary Research Area – Demographic Measurements and Methods, where he also leads the Computational Demography Working Group. His research centers on the development and application of mathematical, computational and statistical methodology to problems and theory of social networks, demography, education, homelessness, and environmental action and governance. Currently, his research program is focused on understanding, modeling, and predicting the effects that space (geography) and time have on human interaction (communication or needle sharing) and social processes (information passing or disease transmission). Dr Almquist's research has been published in highly regarded peer-reviewed journals such as the Proceedings of the National Academy of Sciences, Journal of Computational and Graphical Statistics, Sociological Methodology, Mathematical Population Studies, American Journal of Human Biology and Political Analysis.
Rawan Arar is an Assistant Professor in the Department of Law, Societies, and Justice and CSDE faculty affiliate. Her research program begins with the refugee as a central figure of analysis. Refugee displacement is the manifestation of the breakdown of borders and citizenship rights while refugee status, as a legal construct, is delimited by the principle of sovereignty. Refugees' lives and life chances are inextricably tied to national and global policies, which create or impede access to basic needs, education, rights, and mobility. Prof. Arar's research lies at the intersection of these issues and pushes forward debates about states, rights, and theories of international migration. Her scholarship has been published in Annual Review of Sociology, Journal of Middle East Law and Governance, Nations and Nationalism, Journal of Ethnic and Migration Studies, and Contexts. Prof. Arar has also written for other academic, policy-oriented, and generalist outlets including the Middle East Institute, the Scholars Strategy Network, and the Washington Post's Monkey Cage Blog. 
Peter Catron is an Assistant Professor in Sociology at the University of Washington. His research has focused on the economic incorporation of immigrants throughout history. His work has been published in American Journal of Sociology, American Sociological Review, Social Forces, and the Journal of Economic and Migration Studies. 
Nathalie Williams is Associate Professor of Sociology and International Studies. Her research focuses on migration and other demographic behavioral responses to climate change, armed conflict, and social change in general. She primarily uses statistical analysis of survey data and computational simulation methods with a strong foundation of fieldwork in Nepal, Thailand, and Cambodia.